Hello beautiful people!
Since the official day of spring is around the corner, let's talk about spring fashion! We all know I'm team black all the way; but I'm trying to play more with colors, and what better season than spring to do so? Here are some of the trends for this year's spring season.
Pastel Colors
A
s every year pastel colors are always in for spring. But this year your typical "Easter colors" were all over the fashion runways. You can go monochromatic and wear the same shade in a suit, or color block with another fellow pastel.
All White Errrthang!
T
his trend was really popular during the winter, breaking the fashion rule "no white after labor day", and is going to continue during spring. I personally love an all white outfit as much as I love an all black. It looks very chic and refreshing. I would definitively be rocking this trend.
Crop tops
C
rop tops have become a staple on every girl's closet. Believe it or not they can work on almost any body type; the key is to wear the right bottom! You can pair it with a pencil skirt, high-waisted pants, shorts, or maxi skirt.
Fringe
F
ringe is a very fun and playful trend. It can really make a statement, and you don't have to necessarily be wearing a fringed outfit. You can keep the outfit plain, and add fringe shoes, a handbag or a jacket.
Florals
W
ho doesn't love flowers??? I'm all for a little flower power! This season you will see bright colors, geometric patterns and very cool flower effects.
Mesh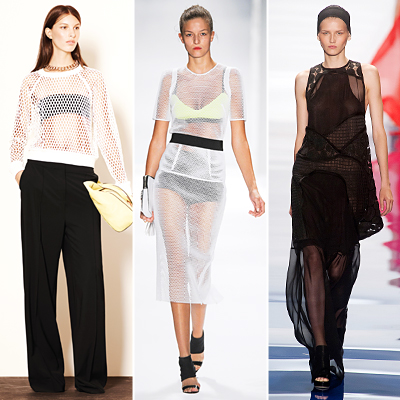 M
esh is very sexy and revealing, so if you're not into showing too much skin look for pieces that have small mesh inserts. Like with fringe, a little mesh can go a long way.
Pattern & Color mix
T
his trend is so much fun. The mixture of bright colors and crazy patterns makes the clothes look very futuristic. I already got some pieces that I can't wait to wear.
I hope you guys found some inspiration on this post, now let the spring shopping begin!
Besos,
Marcel